The heart of Berlin: We will spoil you with wonderful 4 star luxury and 337 comfortable bedrooms and suites right on Alexanderplatz square. Experience close up one of Berlin's most significant public spaces and discover all of the attractions on foot. The 1600 m2 conference area is t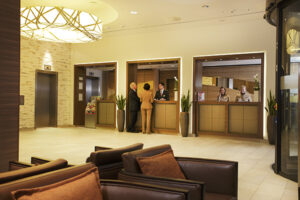 he largest on Alexanderplatz. We have a fitness and wellness zone, an attractive restaurant in the hotel including a cozy lounge and a separate smoker's room, as well as the "Destille" hotel bar.
The english RAMADA website is online.
Simply browse, find and book your perfect holiday destination with just a few clicks. With the new RAMADA and TREFF Hotel website your holiday already starts with the first click.
Use our city and area search and choose from over 70 hotels in Germany, Switzerland, Austria and Italy. Whether you are looking for a Leisure, Business or Budget trip. We have have just the right hotel for every need.
Karl-Liebknecht-Straße 32
10178 Berlin, Deutschland
Telefon: +49 30 3010411-0
Telefax: +49 30 3010411-550
E-Mail: berlin.alexanderplatz@ramada.de