Stunning The Royal Horseguards five-star luxury hotel overlooking the Thames near Embankment
This majestic five-star hotel presides over the River Thames. From glittering chandeliers to contemporary design, this central hotel near the London Eye reflects a proud heritage. Expect more, with free Wi-Fi throughout the hotel, fully refurbished Victorian splendour, award-winning dining, afternoon tea and sumptuous river view suites.
These luxury details helped us win the TripAdvisor's Certificate of E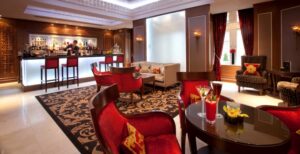 xcellence 2014 and was commended Condé Nast Traveler's Top 35 Hotel in the British Isles.
One Whitehall Place was recently the winner of the Most Prestigious Christmas Party Venue category at the Prestigious Star Awards 2014. Have you booked your Christmas lunch, dinner or party yet? We still have some dates left, so why not give us a call to find out more on 020 7451 9386. Click here to view our Christmas and New Year 2014 Brochure.
2 Whitehall Court
London SW1A 2EJ
Phone:
0871 376 9033
+44 207 451 0390
Fax:
0871 376 9133
+44 845 305 8371