Southend Luxury executive travel for up to 8 passengers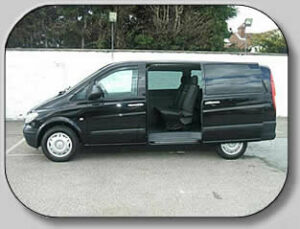 As a professional specialist for passenger transportation the Mercedes Vito Shuttle makes passengers feel welcome from the start. Its high-quality interior appointments, generous dimensions and numerous comfort and convenience features make even the longest journeys spin away pleasantly. It can easily transport up to 8 passengers, still leaving plenty of room for luggage (10 cases).  The mercedes Vito has 8 seats and a X large boot for upto 12 suite cases, privacy glass, air-conditioning and fully adjustable seating. We can also cater for baby seats with prior arrangement. Success is no accident. It has to be earned with hard work.

All 8 seater prices are the minimum, from Southend area, based on one pick up and drop off address, wait and return, maximum wait 8 hours. After 8 hours, charge is £30 per hour.
| | | |
| --- | --- | --- |
| Southend 8 Seater To Royal Ascot £400 | Southend 8 Seater To Cheltenham £600 | Southend 8 Seater To Epsom Downs £300 |
| Southend 8 Seater To Goodwood £450 | Southend 8 Seater To Lingfield Park £300 | Southend 8 Seater To Newmarket £350 |
Telephone: +44 (0)1702 911 258
Text For A Price : 07553120987
E-mail: scott@southendairporttravel.co.uk
8 Seater Mercedes Vito for one way trips
| | | |
| --- | --- | --- |
| Southend 8 Seater To Heathrow £180 | Southend 8 Seater To Luton £180 | Southend 8 Seater To City £90 |
| Southend 8 Seater To Gatwick £160 | Southend 8 Seater To Stansted £100 | Southend 8 Seater To Basidon £70 |
| Southend 8 Seater To Wickford £70 | Southend 8 Seater To Hockley £50 | Southend 8 Seater To Thorpe Bay £60 |
| Southend 8 Seater To London City £190 | Southend 8 Seater To Guildford £190 | Southend 8 Seater To Brighton £220 |
| Southend 8 Seater To Harpenden £190 | Southend 8 Seater To Chelmsford £80 | Southend 8 Seater To Peterborough £400 |
Golfing equipment
Skis
Bicycles
Windboards & Surfboards
Scuba equipment
Fishing equipment
Archery equipment
Snooker cues
Fencing equipment
Paragliding equipment
Musical instruments
Telephone: +44 (0)1702 911 258
Text For A Price : 07553120987
E-mail: scott@southendairporttravel.co.uk